While there are many online sources for Hadoop security topics (like this site), books help in understanding the topic with focus. There are not many books written on this topic. Here, I am listing afew books that I aware of. I have read all of them. They are all complementary and quite useful.
As more corporations turn to Hadoop to store and process their most valuable data, the risk of a potential breach of those systems increases exponentially. This practical book not only shows Hadoop administrators and security architects how to protect Hadoop data from unauthorized access, it also shows how to limit the ability of an attacker to corrupt or modify data in the event of a security breach.
Authors Ben Spivey and Joey Echeverria provide in-depth information about the security features available in Hadoop, and organize them according to common computer security concepts. You'll also get real-world examples that demonstrate how you can apply these concepts to your use cases.
Book by Benoy Antony, Branky Shao, Cazen Lee, Cheryl Adams, Kai Sasaki, and Konstantin Boudnik
Professional Hadoop is the complete reference and resource for experienced developers looking to employ Apache Hadoop in real-world settings
Chapter 6 gives a very good overview on Hadoop Security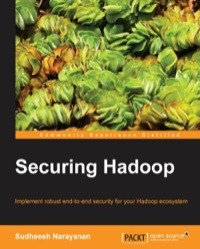 This book is a step-by-step tutorial filled with practical examples which will focus mainly on the key security tools and implementation techniques of Hadoop security.This book is great for Hadoop practitioners (solution architects, Hadoop administrators, developers, and Hadoop project managers) who are looking to get a good grounding in what Kerberos is all about and who wish to learn how to implement end-to-end Hadoop security within an enterprise setup. It's assumed that you will have some basic understanding of Hadoop as well as be familiar with some basic security concepts.
Practical Hadoop Security is an excellent resource for administrators planning a production Hadoop deployment who want to secure their Hadoop clusters. A detailed guide to the security options and configuration within Hadoop itself, author Bhushan Lakhe takes you through a comprehensive study of how to implement defined security within a Hadoop cluster in a hands-on way.